If you have decided to make the leap to the electric scooter, we recommend that you continue reading to find out about the new regulations in force to do it safely and avoid fines and choose the model that best suits your needs in this electric scooter buying guide. At the end you will find a selection of models from 279 euros to 1,099 euros for different types of users.
Electric scooter regulations and legislation
From the beginning of 2022 it is included in the BOE (BOE-A-2022-987) the new requirements that future personal mobility vehicles or PMVs will have to meet, starting with their definition:
"He whose top speed is limited between six and 25 km/hThey measure a maximum of 2 meters in length, weigh less than 50 kg and have a maximum power of 1,000 W if they do not have a self-balancing system or 2,500 W if they do have it. In addition, the minimum height of the handlebar must be 70 centimeters or, in the case of having a saddle and self-balancing system, 50 centimeters."
In addition, the scooters will have to have anti-handling system, brake light and reflectorsdrawing on the tires and even a kickstand for parking.
Do you need a circulation certificate? The MVPs will have to be certified in laboratory tests and expose their technical characteristics in a sheet metal and with a QR code in the rear area the owner of the vehicle can be identified. But not now: as of January 22, 2024, all new scooters approved in our country will have to have this requirement. And for those who currently circulate without said information, it will not be mandatory to implement it on the scooter until January 22, 2027.
In accordance with the new Law on Traffic, Circulation of Motor Vehicles and Road Safety, it is established that the VMP they will have to wear a helmet "In the terms determined by regulation". Also I know enter the rate 0.0for the moment an exclusive obligation for minors who can get around on a moped, bicycle or personal mobility vehicle.
What to consider when buying an electric scooter
Once we have clear the previous point, it is convenient to review the most important features when choosing an electric scooterwhich basically boils down to what type of riding you like, the route you plan to take, and how/where you're going to store it.
power and speed: although by law they are limited to a maximum of 25 km/h, there are also more modest ones, generally up to 20 km/h (those of 10-15 km/h are usually children's). However, also look at the nominal power, which is usually between 250W and 500W. Although they are "caped", the higher the power, the more force for the slopes and overtaking.

Scooter design and weight. There are those who prefer wide scooters, to support their feet and drive comfortably and others who opt for more sporty driving with slimmer models. However, if your idea is to carry it folded for a long time, carry it in your arms, take it on public transport or in the trunk, you want it to be as compact and light as possible.

folding system. In line with the above, make sure that the folding system is fast and robust. There are models that even collect the handlebar to take up less space.

Maximum weight supported. Although normally the limit is 100 kg, there are models that support 10 – 20 kg more and that are interesting for larger people.

Autonomy, type of charge and time required. The autonomy fork moves between 20 and 50 km, although you have to take into account that they are indicative and optimistic data. In practice, consider the type of driving, your weight, the terrain, whether there is a favorable or a negative wind… the ideal is to go with plenty for our route. Keep in mind that the larger the battery, the longer it will take to charge and the heavier the scooter will be.

Security elements. Because you are the bodywork, it is worth checking that it has sufficient lighting and reflective elements, is made of robust materials, braking is effective.
featured models
This version of the Xiaomi scooter is interesting for those who are looking for lightness, are going to move for short distances or have a tight budget: This is the Xiaomi Mi Electric Scooter Essential (279.00 euros). With 12 kg of weight, it reaches a maximum speed lower than that established by law (20 km/h) and its autonomy is around 20 km.
Xiaomi Mi Electric Scooter Essential and Lock, Black
This Gotrax H858 (349 euros) is a scooter that It stands out for its balance, with features as interesting as a range of up to 30 km and a maximum weight of 120 kg.. It has 8.5″ wheels, a 300W motor, very useful for hills and overtaking, and a disc brake.
Gotrax H858 Electric Scooter, Black
Lidl has landed in the world of electric scooters stomping: with a model that supports up to 100 kg of weight, autonomy of 22 kilometers, top speed of 25 km/h thanks to its powerful 350W motor and double brake, a combo that is postulated as one of the candidates with the best value for money at the moment. Its price is 379 euros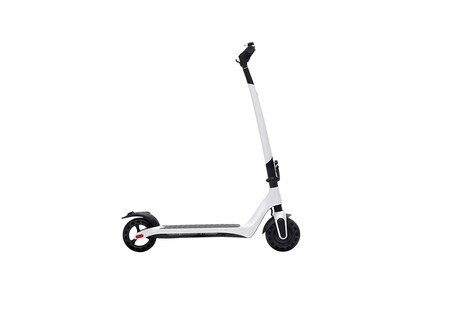 Fast Shoe said that a tractor is "the cheapest way to have a convertible", and to have a Lamborghini is this Lamborghini AL1 (389 euros), a model that is quite reminiscent of Lidl in terms of performance but without a disc brake on the back wheel. Sporty design crowned by a powerful 350W motorfront shock absorber, autonomy of 30 km, weight of 13 kg and application.
Lamborghini AL1 Electric Scooter, 13 kg, integrated App, 350 W brushless motor, range up to 30 km, 8″ Front/Rear Honeycomb tires, Axa Family protection warranty included
The latest generation of the most popular scooter in its most balanced version is this Xiaomi Mi Electric Scooter 3 (393 euros), a wide spectrum scooter that will probably satisfy most users for its good performance at an attractive price. With a total weight of 14.3 kg, very powerful 600W motor, rear disc brake with double pad, autonomy of 30 kilometers and application.
Xiaomi Mi Electric Scooter 3 Gris
Another company that enjoys great popularity within the sector is Cecotec, with models like this Bongo Serie A Advance Connected (399.00 euros) with very reliable features, connectivity and removable battery. To highlight its powerful 700 W motor and autonomy of 35 kilometers, triple mechanism brake mechanism (electric, disc and manual) and anti-burst wheels.
Cecotec Bongo Series A Advance Connected Electric Scooter. 700 W Maximum Power, Smartphone App, Interchangeable Battery, Unlimited Range From 35 km, 8.5′ Wheels
If you need a scooter for long distancesdo not lose sight of the Xiaomi Mi Electric Scooter Pro 2 (499 euros), with a great autonomy of up to 45 km, 300W motor, 14.2 kg of weight (be careful when carrying it in your arms because it can be heavy), E-ABS + mechanical anti-lock brakes and up to 100 kg of weight
Xiaomi Mi Electric Scooter PRO 2 (Black), Basic Version
In our comparison of the best electric scooter, a previous version of the E-Twow Booster S (749 euros) remained as best sports model thanks to its lines, light design and 500W of nominal power for those who like agile driving. Autonomy of up to 30 km, top speed of 25 km/h and very light (10.8 kg), ideal for carrying in the arms.
We end with a high-end model with a very sporty design, the INOKIM Light 2 Super (1,099 euros), with drum brakes, 8.5″ wheels, a range of 35 km and a 350W motor. Among its strengths, a balance between power, autonomy and lightnesswith 12.7 kg of weight and fast folding system in 3 seconds.
INOKIM Light 2 Super / Electric Scooter / Power 350W / Autonomy 35km / Official INOKIM Product / 100% Legal in Spain / Rear Engine / Drum Brakes / 8.5″ Wheels (Green)
More offers
if you make Amazon Primeyou have a 30-day free trial (later 36 euros per year) to enjoy fast free shipping, priority accessory to offers, services such as Prime Video, Prime Music and unlimited photo storage. Also, if you are a student, make Prime Student It costs half and you have a 90-day trial. You can also try services like Kindle Unlimited o Audible.
You can be up to date and at all times informed of the main offers and news of Xataka Selection in our channel of Telegram or in our profiles Twitter, Facebook and the magazine Flipboard.
At Xataka Selección we publish the best offers in technology, computing and electronics from the main internet businesses. Prices and availability may change after publication.
Some of the links in this article are affiliated and can bring a benefit to Xataka