The views from the top of a mountain or a rooftop, a walk through nature in full splendor, a bike descent or a dive under the sea… there are many scenarios where you may be interested in recording or immortalizing a scene in its entirety, that is, covering 360 degrees. And with these cameras you can. In this 360º camera buying guide We tell you how they work, how to choose a model correctly and we propose a careful selection of candidates.
What is a 360 camera and how does it work?
As the name suggests, these cameras are capable of recording or photographing covering 360 degrees. How do they do that? Thanks to the fact that they integrate several wide-angle lenses (minimum two) and a processing system that interprets the images and unites them. The ideal is that "the seams" are not appreciated. In other words, each lens points at different angles, takes its own photo, it is processed and what you get is a single image of everything around you.
The The quality and size of the photo may vary depending on the characteristics and quantity of said sensors.. The most ambitious will require a more powerful processor, having to process more angles and photos/videos.
360º cameras are mainly divided into two types: monoscopic and stereoscopic. In the first type, the video is recorded and then the content of the field of view of several lenses is joined to generate a complete image. The second ones use two cameras, one for each eye, which allows you to create a three-dimensional image. In this process, lower resolution images are generated compared to monoscopic ones, which is why the former are the most interesting for content creators.

How to choose a 360º camera
Before choosing a 360 camera, consider the following features:
In a 360 camera we will find at least two lenses, wide-angle type with a field of view that is around 180 degrees. Precisely the lenses are one of the most important components: look at their shutter time and ISO range.

Image quality in photo and video. The resolution that the camera is capable of generally is decisive, given that 360 content requires an ambitious resolution to match the quality of normal videos, so look for high resolutions. To give you an idea, 3D videos usually have half the resolution of a 2D camcorder. If we want a good level of detail and sharpness, better than 10MP resolution in photo and at least Full HD (1920x1080p) in video at least. However, a good 360 camera should be able to record 4K video and take at least 15MP images.

Los FPS. Although some of the most advanced 360 cameras can capture more than 50 frames per second, 30fps is a good number to ensure speeds similar to standard camcorders.

If you are going to use your 360 camera on the movethen you are interested in having stabilization software to minimize the effect of vibrations, shocks and sudden changes.

As we explained in its operation, 360 videos and photos are created by joining two or more images using multiple lenses. A good 360 camera should stitch these images together either within the camera itself or from the app you install on your phone. Ideally, the stitching in the images should be of qualitythat is, as subtle and discreet as possible.

Ease of handling. Taking into account that it is a device that we are going to use on the go, it is important that it be manageable and intuitive. Also take a look at the interface, options and fluidity of the application

Storage. While the most affordable ones have an SD slot to expand their storage space, the most advanced ones have internal hard drives.

Autonomy. These types of cameras require a good battery, considering the processing power required to generate 360° content. More than mAh, pay attention to the average battery life (recording/shooting hours). It is worth investing in models that are around an hour of actual use instead of a few minutes, enough to make short videos in daily activities or trips. Another option: carry the charger with you or an extra battery.

Dimensions and water resistance. Normally, this type of camera is used outdoors, but if you also want it for sports, it is essential that it has a robust, compact design and that it can withstand some exposure to liquids and dust.
360 cameras: featured models
If you are looking for an affordable model to try out the 360-degree photo and video experience, this Kodak Pixpro Sp360 (141 euros) is a good candidate to start.
Extremely compact, very easy to use and with a sports vocationhas three buttons for handling, an app for managing content from the mobile (Wi-FI/NFC) and be careful because it is resistant to water, shocks (up to 2 meters), dust and freezing (-10 degrees) .
Yes indeed, its benefits as a camera are rather modestwith a 16MP sensor, HD video recording and captures 10MP photos with continuous shooting.
It has a 1,250 mAh battery and an SD card slot of up to 128 GB.
Kodak PixPro SP360 action sports camera Full HD MOS 17.52 MP 25.4 / 2.33 mm (1 / 2.33 ") Wifi 103 g – Sports camera (Full HD, 1920 x 1080 pixels, 120 pps, 848 x 480 ,1280×720,1280×960,1920×1080,H.264,MP4,1080p,720p)
The Ricoh Theta Sc2 (316 euros) is a very interesting 360 camera in relation to cost performance. East compact and handy model allows you to record 4K video with stabilization and night mode. As for its photographic proposal, it has a double sensor with a total resolution of 14MP with an aperture of f/2.0.
With a small and handy OLED screen to operate it and an easy-to-use app, transfer content to Wi-Fi and control via Bluetooth. With 14GB storage, autonomy of approximately 260 photos or 60 minutes of video.
If you want to use it underwater, an optional underwater housing is available to submerge it.
RICOH Theta SC2 Blue 360° Camera 4K Video with Image Stabilization Image High Speed ​​Data Transfer Beautiful Night Vision with Low Noise
The Insta360 One X2 (440 euros) is one of the most attractive models in terms of value for moneyespecially interesting for recording videos thanks to its 5.7K resolution, with 4 microphones for surround sound and the Steady Cam, which provides extra stability without the need to resort to a gimbal. And if you want to record yourself in the third person without showing the selfie stick, it has the function Selfie Stick Invisible.
What do you want a camera for water activities? Then this is a good candidate, since it offers IPX8 resistance, that is, submersible up to 10 meters.
Quite compact and with intuitive color touch screens, another of its strong points is its autonomy up to 80 minutes using the highest resolution.
File transfer is done via Wi-Fi only.
Insta360 One X2-5.7K 360 Degree Camera with Stabilization, IPX8 Water Resistance, Invisible Selfie Stick Effect, Touch Screen, AI Editing, Voice Control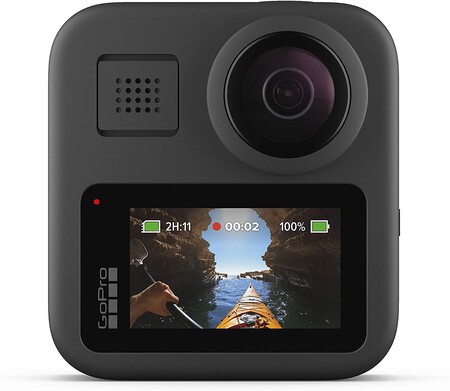 GoPros are an authority on action cameras so how easy they are to handle, how compact and robust they are and surprising quality for how short their learning curve is. And this GoPro Max (511 euros) repeats the formula, thanks to, among other things, how video editing is
This GoPro Max stands out for its ability to record video at 6K at 30fps, it is waterproof to 5 meters, it has a touch screen and a removable 1,600 mAh battery with a USB-C port for a very practical fast charge.
Another plus in its favor: in the pack you will find protective lenses, caps, bag, tripod mount and case.
GoPro Max, Waterproof 360 Digital Action Camera with Unbreakable Stabilization, Touch Screen and Voice Control, Bluetooth USB Wireless, GoPro Quik, Black
The Insta360 One Rs Twin Edition (547 euros) is a very interesting camera both for the functions available and for the possibility of exchanging lenses. The same body is available in three versions, each of which has different accessories and interchangeable lenses. Thus, this Twin version is the one that has a 4K Boost lens to obtain wide-angle videos and another 360 lens.
Its photo and video features are reliable for all types of users, with 48MP photos, 6K video and HDR to improve image quality. With stabilizer, night mode and function Selfie Stick Invisible so that the selfie stick is not visible.
Using the 360 ​​lens, the 1445mAh battery offers theoretical battery life of 82 minutes in 5.7K@30fps mode. With Bluetooth, Wi-Fi, USB-C and microSD card slot.
Insta360 One RS Twin Edition: Interchangeable Lens Action Camera: 4K 60fps Lens and 5.7K 360 Lens. FlowState Stabilization, 48 MP Photos, Active HDR, Waterproof, AI editing
For ambitious, demanding users who can afford it, this Ricoh Theta Z1 (1199 euros), a compact and handy camera that stands out for its image quality thanks to assets such as its 4K recording with stabilization and 23-megapixel sensor.
Equipped with a four-channel microphone, which will allow you to record sound in various directions for more realistic and immersive videos. Its autonomy is around 60 minutes, something stingy for what it costs.
Its standard storage is 19GB, although there is also a 51GB version (1,299 euros) that, if you spend money on a high-end camera, the jump is surely worth it.
Reflects Ricoh Theta Z1, Black
More offers
if you make Amazon Primeyou have a 30-day free trial (later 36 euros per year) to enjoy fast free shipping, priority accessory to offers, services such as Prime Video, Prime Music and unlimited photo storage. Also, if you are a student, make Prime Student It costs half and you have a 90-day trial. You can also try services like Kindle Unlimited o Audible.
You can be up to date and at all times informed of the main offers and news of Xataka Selection in our channel of Telegram or in our profiles Twitter, Facebook and the magazine Flipboard.
At Xataka Selección we publish the best offers in technology, computing and electronics from the main internet businesses. Prices and availability may change after publication.
Some of the links in this article are affiliated and can bring a benefit to Xataka