If the solar system were a building, Mercury would be like that neighbor who lives two floors above and whose name and door we know, but who still remains a mystery to us. we know it. We salute you. We have a notion of his routines. Now, no idea what he does for a living, or where that weird accent that we hear every time he speaks is from. Something similar happens with the planet closest to the Sun. Although they already knew him in Ancient Greece, somehow it seems strange to us.
Although we have a good collection of data and observations on it, just a few years ago we had a probe orbiting it (Messenger) and there is already a mission underway with which we aspire to get to know him even more, in some aspects Mercury… it makes no sense.
It is small, the shortest in the Solar System club, if we ignore Pluto. and a piece of rock quite dense, with an important core and devoid of a thick mantle like that of the Earth. For years, astronomers have wondered what its peculiar physiognomy is due to, and one of the hypotheses they have come up with is that perhaps the Mercury that we know today and see through our telescopes is only part of the planet that existed billions of years ago. of years.
Mission: Meet Mercury
His point is almost as strange as Mercury itself: that what we see now is, in fact, what remains of a much larger protoplanet that was torn apart by the blow of a large object, a brutal collision that ripped outer layers and left what we know today. The most curious thing is that there are those who believe that perhaps part of that primitive Mercury has been in our hands for almost two centuries and exhibited in museums without us noticing.
The idea –as he points out The New York Times— has been raised by a group of researchers during the Lunar and Planetary Science Conference held last March in Houston, United States, and draws a scenario that would broaden our knowledge of Mercury. What they say is that perhaps among the vast collection of meteorites that we have in our possession, with about 70,000 piecesthere are remains of the outer layers of that old large protoplanet.
His attention is focused on a very specific type of space rocks, the aubritaslow-oxygen, metal-bearing meteorites that were first identified nearly 190 years ago, in 1836in Aubres, a small town in the south of France. To date, only about 80 specimens have been reviewed.
The question is… Why precisely those peculiar rocks of faded color and not others? "I believe that the aubrites are the most superficial parts of the mantle of a large protomercury", comments to the New York newspaper Dr. Camille Cartier, of the Lorraine Universitywho recalls that this type of rock is often presented as "good analogs" of the small planet.
Of course, its characteristics coincide with what we suppose lived on Mercury during the early days of the solar system. And the information collected by NASA with the messenger between 2011 and 2015 only confirms the similarities between the composition of Mercury and the aubrites.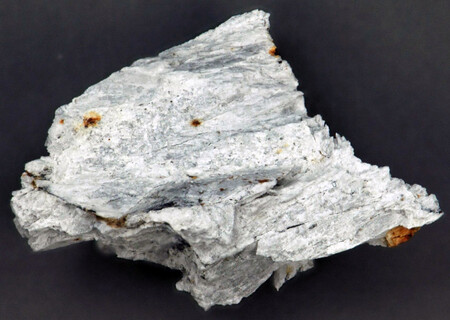 At least for now the hypothesis is just that, a hypothesis. And as such there are also experts who welcome it with caution or directly skepticism. After all, we have meteorites from the belt between Mars and Jupiter, from the Moon and from Mars; but not from the planets closest to the sun.
Some experts doubt that supposed remains of Mercury have been able to move in a stable way through the asteroid belt until they ended up hitting the Earth and others point to the marks left by the solar wind, a phenomenon from which Mercury's magnetic field should have protected them. For the defenders of the hypothesis neither one nor the other are insurmountable objections and they do not see them as incompatible with the fact that the remains remained for billions of years in space.
The best thing is that it may not take us long to handle new data that shed more light on Mercury and its possible relationship with aubrites. If all goes according to plan in just a couple of years, the BepiColombo mission will bring us valuable information on Mercury, data that would be added to the experiments that Dr. Cartier is already carrying out with samples of aubrite.
Images | NASA y James St. John (Flickr)