Just a few days ago, Lidl surprised with the launch of its own electric scooter. A model with LCD screen and double brake that competes, directly, with some of the best selling models from Xiaomi. To have a more complete picture, we review its main competitors.
If we review the main arguments of the Lidl scooter, we find a vehicle with 22 kilometers of autonomy, a 350 W motor and an interchangeable battery to reach the maximum allowed in our country of 25 km/h. It adds a double brake (the rear one is disc), white front light and a load capacity of 100 kg.
The price of the Lidl scooter at the moment is 379.99 euros, a price range with very strong rivalsamong which Xiaomi stands out mainly.
The best alternatives to the Lidl scooter
If the Lidl scooter does not convince you, there are some very interesting alternatives in a similar price range. And if we are not so tied to a specific budget, this is our great comparison of electric scooters with different ranges and prices.
Xiaomi Mi Electric Scooter Essential
If you can give up a bit of top speed but want to save good money, this option from Xiaomi (279.00 euros) has a really attractive price and, buying from Amazon, comes with a lock included. It weighs one kilogram less than Lidl's option (12 kg compared to 13 kg for Lidl) and its maximum speed is 20 km/h. But it also has a price one hundred euros below despite maintaining the double disc brake on the rear wheel.
Xiaomi Mi Electric Scooter Essential and Lock, Black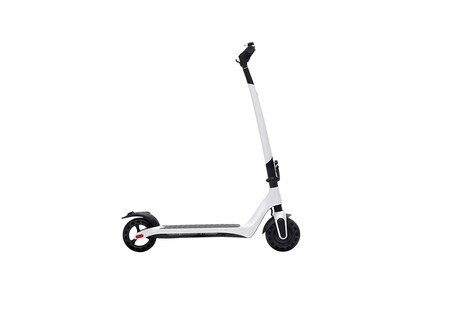 Lamborghini AL1
If you ever dreamed of having a Lamborghini, now you can have one for fifty euros less than the Lidl scooter. Of course, there is a trick. The luxury and supercar firm offers this scooter with characteristics almost traced to the supermarket option but in which disc brake is waived on the rear wheel. A detail that is not minor, but is also true, is that its price (323.00 euros) can be an incentive if we ever want to have a vehicle with the Lamborghini logo.
Lamborghini AL1, 8″, 350 W, 100 kg, 25 km/h, 7800 mAh, Double brake, Up to 100 kg, White
Xiaomi Mi Electric Scooter 3
Probably the direct rival of the Lidl scooter. This Xiaomi vehicle is one of the best sellers and has a current price on Amazon (400.00 euros) that leaves it slightly above. Its weight is slightly higher, 1.3 kg more to reach a total of 14.3 kg. In return, it has important arguments in its favor. Its power is 600 W, for the 350 W of Lidl, and its rear disc brake has two pads. In addition, it increases the autonomy to 30 kilometers and has three speeds.
Xiaomi Mi Electric Scooter 3 Gris
Cecotec Bongo Serie A
Another of the usual firms when we talk about quality/price ratio is Cecotec. His Bongo Series A in its Advanced version (399.00 euros) sees Xiaomi's bet and improves it slightly. Its motor is 700 W and its autonomy is 35 kilometers. In addition, it has its own app and three driving modes: eco, comfort and sport. Its brakes have a triple mechanism (electric, disc and manual) and its wheels are anti-burst.
Cecotec Bongo Series A Advance Connected Electric Scooter. 700 W Maximum Power, Smartphone App, Interchangeable Battery, Unlimited Range From 35 km, 8.5′ Wheels