Epic Games usually give us surprises from time to time, giving away top-level games. And this is one of those weeks in which they have been generous, because they give away the game of Borderlands 3 in its standard edition for a limited time. It is a shooter that stands out for its visual style and its characteristic sense of humor.
Therefore, we are going to give you briefly all the information you need to get the game. We are going to tell you the exact dates on which it will be available, and the simple process you need to carry out in order to obtain it at no cost.
Borderlands 3 gratis con Epic Games
Borderlands 3 is an action shooter created by the developer 2K Games, which stands out for having graphics that are closer to the drawings of graphic novels than to the realism that we see in other titles. This title puts thousands of different weapons at your disposal, and a multitude of abilities to customize your character. In addition, you can play cooperative games of up to 4 players on a split screen or online. You have his analysis in VidaExtraand its complete record in 3D Games.
Borderlands 3 will be free on the Epic Games Store until May 26 at 5:00 p.m.. Therefore, you have a whole week to get hold of it by purchasing it at no cost in the Epic Games Store. My recommendation is that if the game interests you, don't wait to think about it, get it for free and then you'll think about whether to play it or not. You will only need to have an account with Epic Games.
How to download Borderlands 3 for free
To get the game, what you have to do is enter the website of Epic Games online storeand in it, log in with your Epic Games user account. If you have bought before or have played games like Fortnite you will already have one, and if not, you can click on Consigue Epic Games to create a new account and log in with it.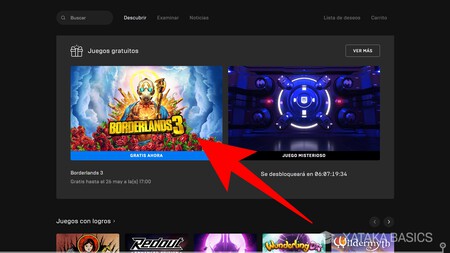 Once you are inside the store, scroll down to the section free games. When you do, you will see that the game is already there. therefore now click on the box where Borderlands 3 appears with indicator free now.
As it is an action and violence game, when you click on it first you will see a screen that tells you This game shows adult content recommended for over 18 years. Here, all you have to do is press the button Continue to go to the purchase screen.
This will take you to the game tab, where you can see your original game and the indicator that it's free right now. It will also give you the deadline of the offer. Here, you have to press the button Obtainwhich is like buying it at zero price.
This will take you to the basket where you buy it, where you will see the game for price 0 and you will have to click on place order. On this screen, the checkmark to share your email with the game publisher is completely optional, you don't have to do it to get it.
And that's it. When you click on place order, a window will appear with information about the refund and right of withdrawal. Here just you have to press the button I agree And that's it, you'll have the game linked to your account for free.