we will explain what is it and how to register to use Vinted, one of the main alternatives to Wallapop when it comes to selling used and second-hand products. Its main difference is that It is a platform focused on fashionso the products you will find are clothing and accessories.
We are going to start this article by explaining to you in the simplest way possible what exactly Vinted is and what features it offers. And then, we will guide you step by step through the procedure to register by creating a personal account to use it.
What is Vinted?
Vinted is a service for the sale of second-hand items. The sale is made directly between users, so that you are not going to buy clothes from a store, but from a specific user. The idea of ​​the platform is that if you have clothes at home that are in good condition but you no longer wear them, you can sell them and get a little money in return.
Meanwhile, if you have a tight budget and you don't mind that the clothes you buy are not new, on this platform you can buy clothes at a lower price to which they usually cost you new on the Internet. Come on, you both win, someone earns a little money for clothes in good condition that they no longer wear so as not to throw them away, and you get cheap clothes.
On this platform you can find all kinds of clothes, accessories and other fashion products. They are generally second-hand, although they can also be things that someone else has received as a gift or has bought and simply does not like or has not been able to wear it for the first time. Besides, the platform does not charge commissions in exchange for posting your ads.
How Vinted works
To use Vinted, the first thing you have to do is create an account on the platform, something we'll show you in a moment. You will be able to do this through its mobile applications, available for Android and Google Play and for iOS in the App Store. In addition, you can also do it online through the page of Vinted.es.
Once you create your account, you will have to fill in all the information in your profileproviding information about yourself and a photograph. You will also need to link a payment card, either debit or credit, which is the one that will be used to pay for purchases. In the same way, you are also asked to link a bank account to collect the money from the clothes you sell.
And that's it, once you have an account, you can use its search engine to find clothes or accessories. Here, in each product you will see the photos that the owner of the garment has uploaded, as well as its description and the price it has. There is also a favorites system to save the things you liked in them and review them later.
If you want to sell, you will also be able to upload the ads of the clothes you want to sell. Here it is It is very important that you give an exact description, also explaining its condition and providing photos., as many as you can. Remember that these types of platforms are based in part on the trust that you generate as a seller with your products, so it is better that you make everything clear. You will also have to assign a price, which will be better if it is realistic.
If you are a seller, when someone contacts you they may ask you things about the product, just as it is important that you ask all your questions if you are going to buy. And that's it, the transfer will be made when the purchase is made, and the seller will have to take care of sending the product.
Vinted also offers a profile system with tracking capabilities. Come on, if you like the type of clothing that a specific user wears, you can follow his profile for quicker access to all the ads you post.
How to sign up for Vinted
To register on Vinted, you have to enter the website of Vinted.es. Once inside, click on the button Sign up | Log inwhich is used both to register by creating a new account and to enter an account already created by logging in.
A window with options will open. here in the first place you can register or log in by linking a Facebook, Google or Apple account. This is not recommended if you want to keep your privacy as much as possible, in which case the best option is to click on The registration with email. However, the first three methods will help make the whole process faster.
If you sign up by email, then you will only have to write a username that must be unique, your email and a secure password. The website will tell you if the username you are trying to use is unique or not. Remember that if you do not want Vinted to send you spam, you must deactivate the option that you want to receive their newsletter.
On the web, after registering you will be told to verify your phone number, but it is not necessary if you do not want to. The best is that check your email to find the verification link that have been sent to you. By using it, you will have confirmed your account. And you're done, you've already registered, now you just have to enter your profile to complete it and you can start using it.
How to start selling your clothes
Once you have created your account and have filled in your personal information, you can start selling your clothes on Vinted. Here, click on the button sell now that you have in the upper right. In the mobile app, you will also have a sell button that takes you through the same process.
This will take you to the screen where you have to create the file of the product you are going to sell. On this screen, in the upper half you will have the main options. First, you have to upload all the photos you can of the garment in all possible angles so that potential buyers can see its condition.
Next, you have to add a title for the ad and a description. Here, it is recommended that the name of the ad contain words that are the ones that people use to search for the product, such as the type of garment it is and the brand, or a description of colors or patterns. But always short. And then, in the description of the article you can expand, and it is recommended that you give all the details about what the garment is like or how much you have used it.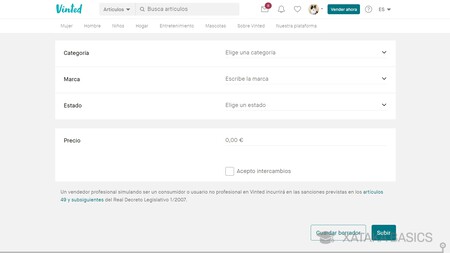 Below, you can complete the product sheet choosing your category, brand and state. Simply click on the buttons and choose from the menu what suits your product. Below, you will have to choose the price you want to put on it and if you accept garment exchanges in addition to the purchase. when you finish it, click on the button Move up to complete the process and sell the product.