The Ministry of Economic Affairs and Digital Transformation, as they explain in Xataka Móvilcount with one public access map that allows us to know the exact location of the different radioelectric stations located in the Spanish territory.
Focusing on its cartographic version, we find a complete tool for know the mobile antennas that we have nearbythe operator to which they belong, as well as the exposure levels measured in the environment and the bands assigned to them.
The map of mobile antennas in Spain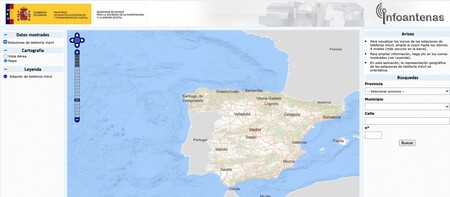 To access the map that shows the exact location of the different mobile antennas, we just have to access its cartographic version. The search engine is quite simple: we only have to enter the province, municipality and street for which we want to have information. To display the icons of the mobile telephone stations, you have to zoom in to its last four levels. Otherwise, the icons that mark your location do not appear.
The Web not optimized for mobile format, so we recommend visiting it from PC for a more optimal experience. It is possible to choose between map view and aerial view at will, within the display options of said map.
Zoomed in, the different locations where the antennas are located will be marked on the map, exactly both visually as in the description of the address of the same. We mark the station code, address and a 'detail' section.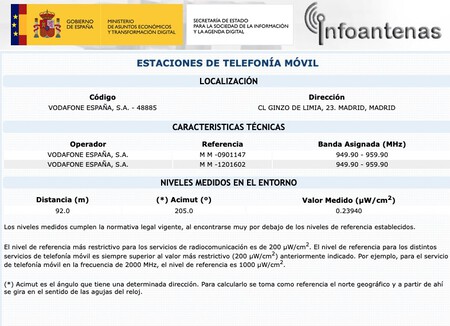 This will open a pop-up window with data regarding its location, operator, assigned band, as well as the exposure levels measured in the environment. As is evident, all antennas comply with the exposure values ​​required by the legal framework. As indicated by the Ministry, this is the most restrictive reference level for radio communication services: 200 µW/cm2.